Are You Really Part of "A Team"?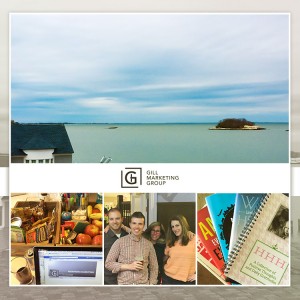 I hesitated for a moment as I hit send for an invite to a two-day GMG team "retreat." Regardless of workload, it never seems like an easy feat to get the entire team sequestered for almost two days. But here's the truth: IT'S NECESSARY. Not only for rejuvenation, collaboration and connection. But for innovation, ideation and motivation for our Clients.
Here's what we hear from the leaders in culturally driven companies like ours:
Zappos sets the tone:
As Zappos CEO Tony Hsieh once said, "If we get the culture right, then great service and building a long-term, enduring brand or business will just be a natural byproduct."
Rent the Runway drives ideation through building connections:
"We've found that team members often get their best ideas when they're out of the office with time to breathe and have fun," says Rent the Runway founder Jenn Hyman. Her team goes "off the island" for team-building so the company's 70 employees understand one another and enjoy communicating with one another on a personal and professional level.
The teams at StumbleUpon, when not doing their regular Karaoke, go out to Angel Island to soak up the rays and do pick up games in the park.
Foursquare hosts team drinks at least one a month so new employees can be introduced to the team veterans, and to transcend the "voice on the phone."
Scopely does paintball, company dinners and has a kickball team.
Twitter hosts rooftop meetings for employees who feel they are doing something that matters in the world.
The Vungle team heads to the hills for yoga.
Chevron insists their employees take breaks.
Eventbrite takes teams offsite quarterly – rafting, bowling, movie nights, happy hours.
Spotify hosts intimate concerts in their offices… and ups the ante by doing new employee orientation in Stockholm.
Klout has gone so far as to brand their outings "Kloutings."
Where does this lead? Full inbox? Probably. Catch up time? Most likely. A little time spent after hours? Definitely.
The upside?
Fresh ideas
Collaboration
Productivity
Better communication
Hierarchy smierarchy
Understanding
Motivation
Reconnection with your passions
And perhaps, a little FUN with those you spend a LOT of time with
Just to make EXTRA sure I was on the right track, I consulted The Google* to back my theory with data. And sure enough, we checked every one of their boxes:
Psychological safety (can we be a little nutty around each other)
Dependability (can we depend on each other for great work, on time)
Structure & clarity (are goals, roles and expectations clear)
Meaning of work (are we working on something that is important to us)
Impact of work (do we believe our work matters)
So, I'm happy to report: we passed.
TRANSLATION: We have a GREAT culture.
So whatever you choose to do, it begs the question: "What's better??"
The answer here: Not much.
Welcome to GMG behind the scenes!
– Heather H.
* The Five Keys to a Successful Google Team Julia Rozovsky, November 17, 2015