Who Says Email is Dead?
Media hype over the last few years has claimed that email is dead. And I beg to differ (and have for years). Yes, there may be too much of it. Yes, it may cause anxiety. And yes, some studies have even correlated it to higher levels of cortisol (a hormone associated with stress).
Why not dead, you ask?
You have people who have raised their hands to receive communications from you. So, TALK TO THEM.

It's CHEAPER than DM, PPC, Print, OOH and now even cheaper than Social can prove to be.

It may be harder to be seen in the inbox, but where is that NOT the case? Clutter is everywhere. Consumers are overwhelmed every minute of every day by marketing messages. It's up to us to make an impact and be heard.
Again, I consult The Google, and the stats don't lie. Who is emailing?
There are over 4.35 billion email accounts accounts. This figure is predicted to reach 5.59 billion by 2019 which is a growth of more than 26% – Radicati Group (2015)
There are 2.586 billion email users worldwide, including both business and consumer users. – Radicatti Group (2015)
72% of US online adults send or receive personal emails via smartphone at least weekly – Forrester (2014)
122,500,453,020 emails are sent every hour. – MarketingProfs (2014)
55% of companies generate more than 10 percent of sales from email – Econsultancy "Emailmarketing census"(2014)
Marketers consistently ranked email as the single-most-effective tactic for awareness, acquisition, conversion, and retention. – Gigaom Research "Workhorses and dark horses: digital tactics for customer acquisition" (2014)
Email is almost 40x better at acquiring new customers than Facebook and Twitter – McKinsey & Company (2014)
And the stats tell us that promotional email is definitely NOT on it's way out…
72% of consumers say that email is their favored conduit of communication with companies they do business with. 61% say they like to receive promotional emails weekly and 28% want them even more frequently. – MarketingSherpa (2015)
68% of consumers find email to be their #1 preferred channel for receiving commercial messages – CG Selections "Nationaal Email Onderzoek" (2013)
BUT, it is going mobile. What that means is that just as we build websites now in responsive design (that which adjusts accordingly to both tablet and mobile platforms), we must assume that the majority of email is read on phones. What this means? Keep it SHORT AND SWEET.
By the year 2017 1.779 Million people will access email via their mobile device. – The Radicati Group "Email Statistics Report 2013-2017"
Mobile email will account for 15 to 70% of email opens, depending on your target audience, product and email type. – eMailmonday "the Ultimate mobile email stats" (2014)
30% of consumers now read their email exclusively on mobile devices – Yesmail "Email Compass: The Mobile Effect" (2013)
So, next time you question whether email is dead… just look at the stats. And think about strategies that integrate channels (like social) rather than exclude them. Again…the data says it all(Custora.com)!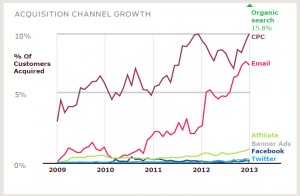 Happy reading!
– Heather H.