Everything You Need to Be, or at Least Look Like, the Social Expert (Well, Almost Everything)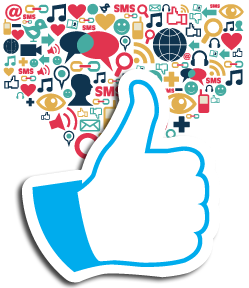 "Social media" has changed enormously over the last eight to ten years. No longer is it the "low cost entry" for brands to amplify their message or engage advocates. Facebook has, for example and all intents and purposes, become a fully paid media platform over 2 years ago (over 5 years ago, I was told by a Facebook rep that, realistically, only 6-8% of brand posts were ending up in newsfeeds). Twitter has been relying on paid placements for years. Instagram, which seemed to be one of the few platforms where you could escape the ads, isn't that far behind with the latest announcement of the Dynamic Ads.
As brand marketers, we continue to try and evolve our efforts through ever changing "content." But who are we really potentially reaching through social with this so called "content"? In order to answer that question, I turned to the statistics to tell me (I like numbers).  So here are some great statistics, just in case you ever need them, from the latest eMarketer Usage StatPack, presented by KINETIC Human-Centered Social report. Feel free to use these in your discussions with co-workers (Or at that cocktail party you are going to on Saturday night with other parents. I promise you it will make you look like the cook kid in school!):
In 2015, there were 180 MILLION social network users in the US (holy cow!). But social network user penetration is reaching saturation. Expected usage by 2020 is about 202 million, which translates into more than 7 out of 10 US internet users engaged in social networks.
Of that 180 million users, more than 150 million access social networks via mobile phone. What does that mean? As a brand, you MUST MUST be mobile friendly. (oh, and more than 66% of tablet users used a tablet for social networking… same comment about being platform friendly).
OVER 50% of the US population uses Facebook (think about that) and more than 85% of those will access via a smart phone.
Think Twitter is dead? Well, just over 20% of the US population will use the platform by 2020. The audience is definitely younger than Facebook, and it's a much more equal gender balance.
As the US population ages, so does the age of social network users. For the first time ever, more than half of the social network users in the US were aged 35 or older in 2015. Again, because of the aging population in the US, we expect this to reach about 52% by 2020.
70% of social network users are female
Hispanic users are a notable percentage of users (almost 20%). Based on my experience with Hispanic marketing, I attribute this to the fact that this segment is often early adopters to mobile, social, etc solely for the purpose of staying in touch with family across the miles.
Short videos are great for Twitter, longer videos are more successful on Facebook (not surprising)
Once a viewer watches at least 25% of a video, they are much more likely to watch the rest, regardless of platform (what does that mean? keep the first 25% of any video SUPER cool and engaging)
What about Instagram, you ask? Here it is. It's seriously on the rise. Check out these stats:
By 2020, Instagram usage is expected to exceed 33% of the population
More than 66% are under 35 and are predominantly female
The platform is also dominated by the Black (47%) and Hispanic (38%) segment
And then there is Snapchat and Pinterest. Well, we will address that in another post (we can't divulge ALL the fun stats in one place, then you wouldn't have a reason to come back!). So stay tuned to get the full scoop on those platforms. But in the meantime, these quick hits should be enough to make you look like the expert (and super cool) at the next cocktail party, BBQ or even soccer game.
As always, don't hesitate to contact us with any questions or to learn more!
Happy statistics!
– Heather H.