Social Media 101.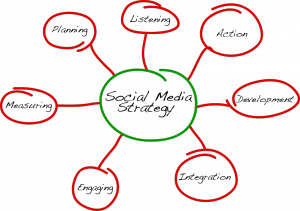 Social media.
It can be a marketers dream, and a marketers nightmare. Whether it's as basic as "Where do I start?" or more complex as "How does my video strategy change now that there is instant video play just with a scroll?", success is always based on a solid foundation.
Both consumers and shoppers are going to be vocal in social. Here are 8 key fundamental building blocks on how to build your brand through social media.
1. Determine goals. What do you want to achieve? Is it conversations, customer service or leveraging advocates? Whatever the goals are, make sure they are aligned with and ladder into your broader marketing and business goals. Social should not be approached in isolation. It needs to be fully integrated into your broader strategy.
2. Establish your brand voice. You've worked hard to build a brand voice through traditional media channels, so it should be a synergistic extension of that. Consider what you do differently, what your visual structure currently is and what your tone of voice should be (first/third person, more edgy, chatty, etc). Once this has been determined, add it to your brand guidelines as your "social identity."
3. Decide on your platforms. Ok, so you've decided social is the way to go, and established a voice. The next question is, "What social platforms are right for my brand?" And "Every one!" is not the right answer. If you are a home improvement company, then a more visual platform like Pinterest, Instagram or You Tube is a good fit. If you are customer service focused, then perhaps it is Twitter. If you are B2B, then LinkedIn might be your choice. Just remember that each platform takes time and nurturing, so select them wisely, and keep the investment for maintenance in mind, as well as backend monitoring tools.
4. Consider your maintenance plan. A stellar maintenance plan will involve someone or even a team that has great communication skills, and the ability to build the rapport and connections. Whether it is an intern or an agency that you've engaged, it needs to be someone who can effectively bring your brand voice to life and engage audiences at any level.
5. Don't let problems spiral out of control. Rule #1: don't delete negative comments. Rule #2: address them immediately. It could be an incredibly effective way to turn around negative perception and gain valuable feedback. Never be too humble to learn from mistakes.
6. Be prepared for the worst. In addition to staying connected to your audience, think about how you want to respond when things go awry. We know that life happens. Make sure you've considered the possibilities and empower people to address issues. And most importantly, be proactive.
7. Find your advocates. Find those with online or social clout who lead conversations. We know the power of word-of-mouth, ratings and reviews. Leverage those who like and want to talk about your brand.
8. Don't underestimate the power of the media. Journalists and bloggers use social media to find trends and sources. Let them try your products before they launch. Use your services. Find and connect with those that can help build relationships at scale. The media likes to be in the know. Make sure they are.
Social media is no longer a question of "is it right for my brand." It's now a question of what is the best way to do it. But it's an investment – it takes a commitment to development, maintenance, and attention.
What social platforms do you use? Are you happy with what you are seeing and hearing? Feel free to ask us. We're happy to help.
– Heather H.