Does Your Website Need a Facelift? Telltale Signs…
Posted on
January 18, 2017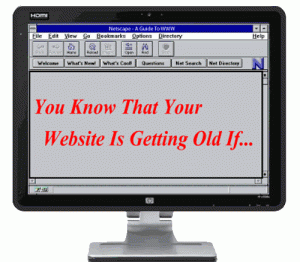 There is no disputing taste. And this couldn't be more true when it comes to the first impression of a brand via a website. For many small businesses, creating this first impression is a grueling and exhausting task, even if they have a team to provide guidance. Even more so, it's common for a small business to not have a ton of money to put towards the process. And not everyone is a website or digital marketing expert, and the stress that comes with a project such as this tends to be less than exciting.
We have some good news for you. We can help! Let's start with some basic questions to help you assess your current website situation.
Are you getting the results you expect from your website?
The first question here, is how are you evaluating the performance of your website. Are you looking at site visits? Unique visits? How the visitor is progressing, or "pathing" through your website? Well, if what you find is that the visitor is coming to your site, spending a short amount of time on your home page and then leaving, we could have a problem. You've spent time building a site with multiple sections and pages. If those visiting your site are not getting past the home page, there could be a major reason.
Slow Load Time
People hate waiting for a website to load. In fact, statistics show that as much as (if not more than) 40% of people abandon a website that takes more than 3 seconds to load. 3 seconds is NOT that long. And, if that statistic still isn't enough to convince you, and your business depends on online sales, consider this: If you make $10,000 per day through online sales, a 1 second page delay could potentially cost you $250,000 per year.
If you're not sure how your website is performing, try doing Pingdom's website speed test or Google's PageSpeed Insights for a great overview of your pain points and how to improve.
Your Website Is Not "Responsive"
"Responsive" design is a way that we approach, design and code web pages and websites. This type of design allows the web page or website to "respond to" or resize itself depending on the type of device the viewer is using. So whether it is an oversized desktop computer monitor, a laptop, a 10-inch tablet, a 7-inch tablet, or a 4-inch smartphone screen, the design that you and your teams have worked so hard to create come to life beautifully across any and all of these devices. It has been around for years, and has become a fundamental "cost of entry" for any website.
In 2017, the trend will continue to evolve and it will no longer be enough to just be be mobile-friendly. All businesses, regardless of age or size, will need to shift from "mobile friendly" to "mobile-centric." Mobile devices are outnumbering desktops, so small business need to ensure their websites can handle many different devices. Responsively designed sites are here to stay. BOTTOM LINE: If your site isn't responsive, you are losing customers. This isn't an opinion this is FACT. And, your non-responsive website could be costing you your Google ranking.
In 2017, if your site isn't mobile-centric, you need to fix it. If you have a responsive site, maintain it by running checks to ensure download speeds are optimal, images are clear, and formatting is comprehensive.
It's Outdated
Thanks to ever-changing technology, if your website hasn't been updated in the past year, it shows. From design styles to new features and code, it's so important to make constant updates to ensure proper functionality. In addition, website's that look outdated make a horrible first impression of your company. Keeping your website fresh helps let people know you're still in business.
Some key questions to ask:
1. Are you slipping in search engine rankings?
2. Does everything work as you expect it to?
3. Is user traffic declining?
4. Does your website use flash?
5. Do the images remind you of 1990's clip art? Or, are they fuzzy and difficult to see?
6. Is your navigation intuitive?
7. Is your content easily updated? Across platforms (desktop, tablet and mobile)?
8. Does your website integrate easily with social efforts and initiatives?
IF YOU'VE ANSWERED "YES" TO ANY OF THE STATEMENTS ABOVE… you need to consider a website refresh. 
Let us help you with what to do next. It doesn't have to cost a fortune. And your website can be updated and working to your sales advantage in a matter of weeks.
Contact us today for more information!
– HHH